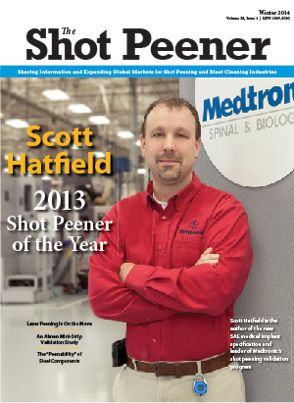 Scott Hatfield is the U.S. Supply Chain Engineering Manager at Tornier Inc. located in Warsaw, Indiana. Scott is responsible for bringing new orthopedic products to commercial release and oversees the development and implementation of manufacturing processes to maintain proper product functionality as well as cost efficiency throughout the supply chain. Scott's career in the Medical Device Industry spans over 20 year with 14 years at Medtronic, Inc. before joining Tornier Inc. in 2015.
Throughout his career, Scott has held various roles in the engineering, manufacturing, product development, and management disciplines. Due to his extensive experience and expertise in manufacturing process design and shot peen and abrasive finishing methodology and application, he established the first fully validated medical shot peening process in 2007. Mr. Hatfield is also an active member of the SAE Surface Enhancement Committee and is the sponsor of the new SAE specification (J3020) for shot peening of medical devices.
Due to his many contributions to the advancement of shot peening, Mr. Hatfield was named 2013 Shot Peener of the Year by The Shot Peener magazine.